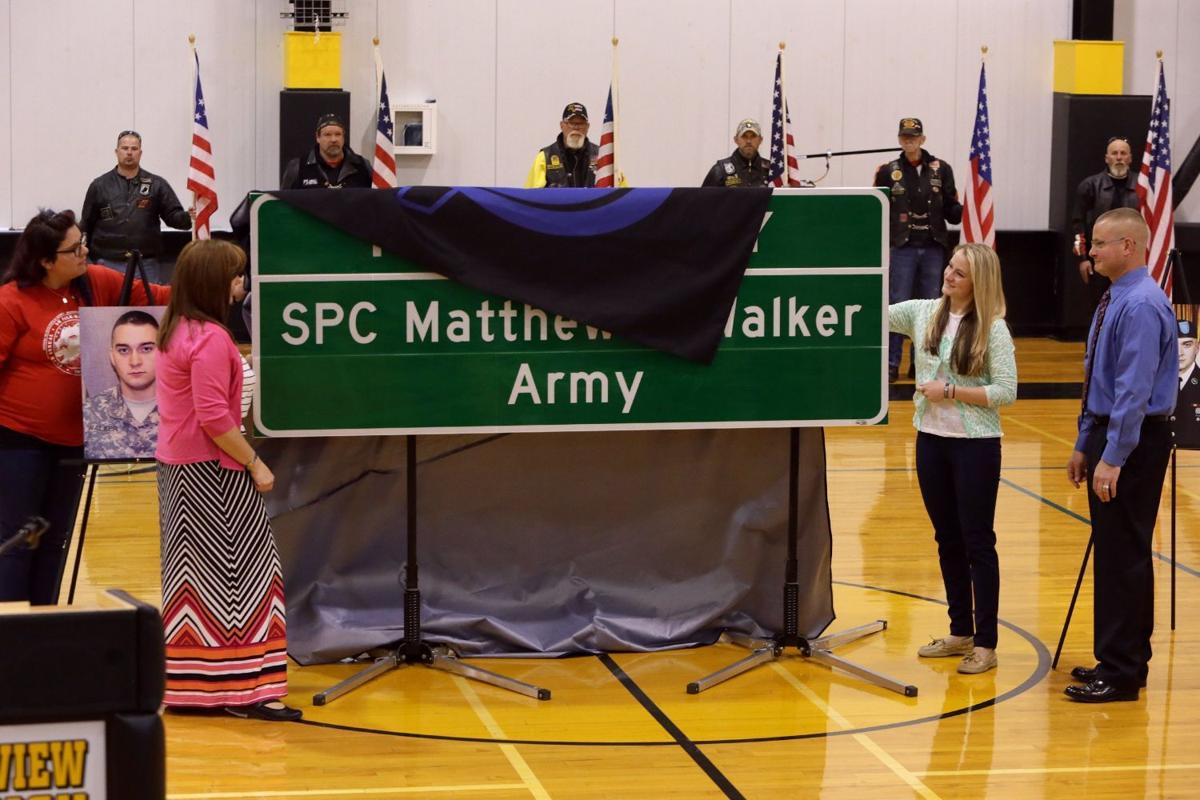 JEFFERSON COUNTY • Army Spc. Matthew Walker graduated from Grandview High School in 2012.
It's the school where he played as an offensive lineman on the football team and where he came to say goodbye before being deployed overseas.
On Friday, a sign honoring the young soldier, killed in Afghanistan, was unveiled in the gym of the school, where his football jersey hangs framed in a weight room.
It's the newest of the state's Heroes Way signs, which are placed along Missouri roads to honor members of the military killed in the line of duty.
Walker, 20, was an infantryman in the 101st Airborne Division.
He died June 5, 2014, in southeastern Afghanistan of injuries suffered when his unit was hit by enemy fire.
The Heroes Way legislation first passed in 2009, allowing interstate interchanges to be designated for Missouri residents in the armed forces killed in action in Iraq or Afghanistan on or after Sept. 11, 2001, according to the Missouri Department of Transportation.
That law was expanded in 2011 to include state highway interchanges, and again in 2015 to include bridges and highway segments. A state legislator must sponsor the designation, which Rep. Ben Harris, D-Hillsboro, did for Walker.
But the law mandated no funding source, and signs can cost upwards of $3,000.
"I absolutely found that appalling. I couldn't believe that after a family suffers what they suffer, that they'd be told to write a check," said Ross Gartman of Cape Girardeau, who founded the Heroes Way organization to raise money to pay for the signs — including for Walker's family.
He began the nonprofit to honor his friend, Bradley Skelton. The two men served in Iraq in the Missouri National Guard together — Gartman was a squad leader, Skelton a team leader.
Skelton was killed in 2008 in Baghdad during his second tour in Iraq when his vehicle struck a roadside bomb.
Exit 96 on Interstate 55 in southeastern Missouri is named for Skelton.
The sign honoring Walker will be posted at Highways 21 and A in Hillsboro.
"Every time you drive by the sign, remember that he was one of your own," Gartman told the crowd Friday who came to watch the dedication, an audience that included high school students.
Heather Wooderson, Walker's mother, sees that intersection almost every day.
As she drove to work last week, she passed the stakes in the ground where the sign will go.
"It sent chills up my spine," she said. "I don't ever want my son to be forgotten. If anything, I hope somebody will drive by who doesn't know him and they'll Google his name and take five minutes to learn who he was."
About 15 soldiers who died in the line of duty from the St. Louis area qualify for such signs, Gartman said.
The next area fallen soldier to be honored with a sign is Army Sgt. Zachary Fisher of Ballwin.
He was 24 when he was killed in a bomb attack in 2010 in Afghanistan.
A ceremony is set for noon on April 16 at Ballwin City Hall to dedicate his sign.
Do you like this post?